Workplace Flexibility (Flexwork) Consulting
What is flexwork and how does it fit into our workplace strategy?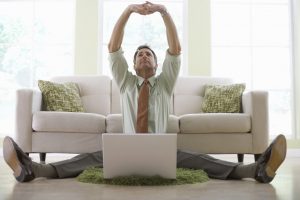 Rolling out on-campus & off-site mobility, work from home, compressed schedules, staggered start & stop times? Policies, enrollment tools, training, & communication can make it a success.
Designing a flexible workplace to offer employees choice and control over where they work can only take you so far. Your workforce needs to fully use the shared-space environment as intended in order for you to optimize your investment.
Workforce flexibility is as important as workplace flexibility. Flexible work and work from home policies must be aligned with the workplace strategy. Those in managerial roles must adopt flexible attitudes and need to shift from line-of-sight supervision to leading for results. Training for both leaders and individual contributors is essential.
Getting human resources and corporate real estate on the same page
If you're in corporate real estate, you may not be speaking the language of human resources. And, if you're in human resources, you may feel that real estate terminology is foreign. Stegmeier Consulting Group is fluent in both languages, and our consultants bridge the gap between people and place for our clients. From our experience, flexwork initiatives are adopted much more quickly when both HR and CRE are actively engaged in both the planning and implementation process.
Workplace Flexibility/Flexwork Consulting Services
SCG offers a number of consulting deliverables and activities to help you create a more flexible work culture.

Implement Flexwork at Your Company
Ready to start the conversation about how your organization can work more flexibly? Perhaps you already have a flexible work program but need to beef up the policies or invigorate employee enrollment and manager buy-in for flexwork–we can help. Get in touch below.