Customer + Employee Engagement
Motivate stakeholders to take an active role in the change process. Solicit feedback and obtain buy-in from your employees/managers/constituents/customers.
Engaging Key Stakeholders During a Change
You want to engage your workforce in the changes being planned, but how can you provide your workforce a voice, without misinterpretation that they have a vote? That question is likely followed by numerous others. When do we begin an employee engagement initiative? How many representatives should we select from various-sized business groups? Volunteers or nominations?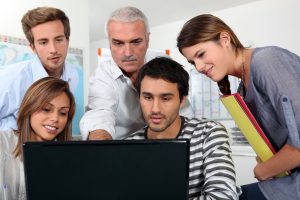 From roles & responsibilities to governance, SCG can help you create a network of change advocates within your organization. We'll establish an effective feedback loop for employees to have their voices heard & answers to questions provided. Create a channel to enhance employee engagement and elevate morale throughout the introduction of a change initiative, ultimately, guiding the workforce to understand, accept, and adopt the change.
SCG's creative staff can support you will all of this, and in addition, plan educational & entertaining employee engagement activities and memorable events that will be talked about for months to come.
Employee & Customer Engagement Services
SCG offers a number of ways to measure and improve the engagement of key stakeholders.

Revamp your Employee Engagement or Customer Engagement Program
Ready to get your key stakeholders involved? Contact us below to get started today.