Workplace Protocols & Etiquette
Office protocols & etiquette guidelines for modern workplaces
Get your workforce to take ownership of their new office environment by leading them through a facilitated workplace protocols development process.

SCG can lead a facilitated process to guide your organization in developing workplace protocols and etiquette specific to your workplace design and unique culture. Protocols are an important part of any new work environment as they allow for a standard that employees can adhere to, or refer to, for guiding behaviors and resolving conflict in what is usually a dramatically different place and style of work.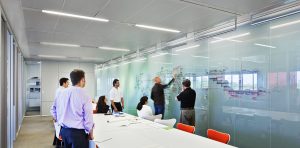 Our approach to workplace etiquette typically includes an on-site facilitated protocol development session, preceded by some pre-work for attendees. During the interactive event, attendees are guided through a brainstorming exercise and work to develop a comprehensive list of behaviors and best practices appropriate for the work environment.
Common courtesy etiquette & work space-specific protocols
The development of protocols is typically broken out into two categories: common courtesy and space-specific. Common courtesy protocols adhere to all employees and include basic guidelines for ensuring an amicable work environment. Space-specific protocols, on the other hand, typically focus on unique challenges or situations that can arise in specific spaces. Often times project teams or executive leadership will prefer to be engaged for the development of this category of protocols first, then as the vision for the new workplace takes hold, our skilled facilitators can guide the conversation towards this stated vision.
Best practices for developing office etiquette guidelines
A workplace protocols development session is typically attended by a representative group of employees who'll be living in the new space; often these attendees are part of an employee engagement group that meets regularly as the organization prepares for a shift in how work gets done. Upon completion of this engaging event, SCG will compile and organize all of the data, giving your executive sponsor a chance to review the output, upon which we'll develop a polished electronic document that can be distributed to the overall workforce ahead of the move.
Develop a set of workplace protocols or etiquette for your new office environment
Let's transform behaviors together and usher in new ways of working. If you're moving to a new office or overhauling the design of an existing space, contact us through the form below and we can help you develop a set of guidelines for employees to follow when using their new workplace.