Change Management Consulting
What is change management?
Many consulting firms view change management as simply overcoming resistance. Change leadership to us consists of planning and facilitating engaging events to build excitement so stakeholders will own the change!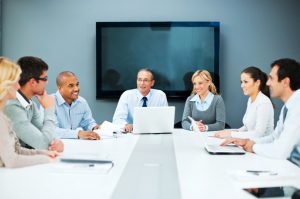 From leading complex workplace transformations driven by corporate real estate to working hand-in-hand with human resources to implement new flexible work policies, Stegmeier Consulting Group (SCG) has a wealth of experience in planning and implementing change management initiatives.
Most consultants will tell you change management is about risk mitigation, minimizing disruptions to productivity, and overcoming resistance. While this is true, SCG looks at change differently; where others see an obstacle, we see an opportunity–the opportunity to improve business processes and address the concerns of affected employees.
Our change management process
In leading change initiatives, SCG uses our proprietary Critical Influence Methodology. This 5-step process has proven successful in driving change for hundreds of client organizations. We regularly partner with our clients' internal change managers, many of whom are familiar with general change management methodologies, such as John Kotter's 8-step method or Prosci's 5-step ADKAR approach. SCG is happy to work with you to supplement these or any other organization-specific process already in place.
Our approach to change management consulting
Before we dive right in, it's important to connect with you first to understand what changes are planned, who the affected stakeholders are, what has been shared already, and what rumors might be out there. Then, we can come up with a change management plan of attack, determining how we'll engage those most affected by the change, both in understanding their concerns and helping them prepare for what's coming.
We know not everyone is starting off at square one in their change initiative; SCG is sometimes brought in by clients whose transformations are well-underway. Whether you're just beginning to discuss change management internally, are in the midst of implementing a change, or are dealing with the fallout from a not-so-stellar transition, there is a lot that SCG can do to help you change behaviors.
Change management consulting services
SCG offers a number of change management deliverables and activities to guide your organization's transition.

Ready to begin your change transformation?
Let's get started!