Critical Influences™: Physical Workplace
Should workplace design be the focal point of workplace changes?
When companies introduce a workplace change, the physical office environment invariably gets the bulk of the attention. In the event of an organization moving to a new headquarters and introducing a collaborative, modern, and more open office environment, consider the following events that typically take place.
Real estate brokers or tenant reps help with site selection and lease negotiations. Architects and interior designers are hired to design a trendy office environment. Contract furniture manufacturers are selected to outfit the space with the latest trends in office furniture. Workplace technology may be selected for reserving conference rooms and even workstations for the day.
What's missing? A focus on people. When embarking upon a workplace change initiative, we'd argue the most important task at hand is preparing employees for success in a dramatically different work environment. 
This is best addressed by developing a thoughtful workplace strategy, one rooted in not only how employees work today, but with the flexibility to accommodate how work styles may evolve in the future. Couple this with a robust approach to workplace change management that is centered on educating and engaging the workforce to build excitement for the change ahead. Your organization will be ready to take on even the most ambitious change to the physical work environment. 
However, companies that only focus on the design of the workplace are playing with fire by ignoring these essential components of the workplace change process.
When concentrating exclusively on the physical work environment, companies are overlooking 14 other factors, which we refer to as Critical Influences™, that affect employee success in the workplace. 
As a consulting firm that specializes in the essential components of workplace strategy and change management, Stegmeier Consulting Group's decades of research is explored in this post. But before we dive deeper into these concepts, let's look at some history first.
---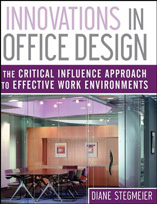 As part of the 15 Critical Influences™, this page on Physical and Virtual Workplace is integrated with actual content from the book Innovations in Office Design: The Critical Influence Approach to Effective Work Environments™ by SCG Founder Diane Stegmeier.
---
The physical and virtual workplace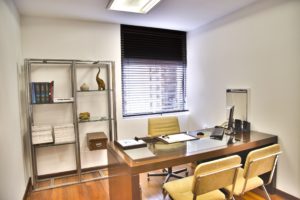 If we would go back in time just before the information age, the business landscape as we now know it would exhibit a stark difference with the one several decades ago. When asked about the context of where they work, knowledge workers would tell you one thing: a traditional office setting (the physical workplace).
To get work done, employees would go to the office which was characterized by cubicles or private offices, with the latter usually occupied by high-ranking individuals.
As the information age took root, computer systems were introduced to workplaces. Soon after that, a wide array of technological tools became useful for workplace productivity and the concept of telework, or telecommuting, was popularized. 
It signaled the birth of a virtual workplace which is not tied to a fixed physical work location. As long as there are proper tools to stay connected with the team, anyone could work wherever works best.
There is no doubt that today, working virtually has eased its way into the "norm." Thanks to technology, efficiency is increased and collaboration is possible even with geographically dispersed teams. And with the onslaught of COVID-19, many non-believers came to realize that remote work is actually feasible and could be a real component of an organization's approach to work.
While introducing or expanding workplace flexibility comes with an array of opportunities and challenges for an organization, one thing we believe is certain: remote work is here to stay.
Whether physical or virtual, the power of place is an important factor affecting productivity, employee behavior, and the success of a workplace strategy. But no matter how impactful the workplace is, a new workplace strategy could fail if other Critical Influences™ are not given enough attention and consideration. 
The interrelatedness of the workplace and other Critical Influences™
In an article titled "Leading in Interesting Times," Chris Turner emphasized the importance of the context in which we work by comparing the workplace and a fish aquarium. To continue Turner's metaphor, too often, clients expect their architects and interior designers to improve the water to provide a healthier environment in which the fish can swim, but fail to identify and address other elements within the aquarium that are preventing our fine-gilled friends from productive travels within the tank. 
The seaweed and other vegetation (i.e., business processes and levels of authority) have become overgrown, and often strangle the fish as they go in circles. The fish food (i.e., compensation) sprinkled on the surface of the water then generates competition among the fish, even though they operate most effectively in schools (teams). And that deep-sea diver statue (technology) that was supposed to generate life-saving oxygen never seems to work.
This metaphor clearly illustrates that the successful execution of a workplace strategy does not solely depend on the physical workplace. Too often, companies spend millions of dollars on real estate and office design with the hope of improving employee experience and efficiency. But they are still left scratching their heads, wondering why the initiative is failing. In reality, they focused on only one of the 15 Critical Influences™ that have an impact on the success of a workplace change initiative. 
In some cases, client organizations have goals that are centered on reducing real estate costs. However, many get stuck while trying to find ways to cut costs. One question arises from this dilemma, how can we achieve significant savings and maximize our real estate investment?
The answer is shifting from measuring the effectiveness of the organization's real estate investment in terms of occupancy to metrics centered on utilization. The traditional emphasis on building occupancy focuses on the number of individuals the facility can hold based on the assignment of one workspace per person.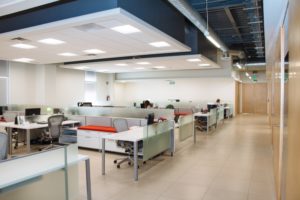 But take a walk through the typical office environment and notice how many workspaces, whether private office or workstation, are unoccupied, regardless of day of week and time of day. Feedback from facilities and corporate real estate professionals that individual workspaces are often vacant 65 percent of the time due to employees traveling; working in other parts of the building or office campus; or gathering in conference, meeting, or team spaces. 
By shifting to the real estate measurement of space utilization, the enterprise analyzes the number of individuals who actually use the facility at a given time. And by switching to an office environment composed of unassigned workspaces, a significant reduction in total real estate requirements can be achieved, leading to major cost savings.
But managing real estate costs does not stop here. There is still the question of ensuring the success, in this example, of the implementation of unassigned seating and how real estate investments can be maximized through this workplace strategy. This is where the other elements of the Critical Influence System™ come into play to make or break the entire process. 
How Critical Influences™ affect the implementation of unassigned workspaces
Leadership behavior can impede the adoption of a program that incorporates unassigned workspaces. Executives who have successfully halted the transition from private offices to a more open plan in the past will assuredly resist moving from private, assigned offices to partially or totally unassigned workspaces. 
Perhaps this time around, verbal commitment can be secured from this critical group. However, voicing buy-in does not preclude an individual from torpedoing a workplace initiative. A phrase we've coined as "silent sabotage" can transpire when leaders (often mid-level managers who may be on the cusp of a roomy private office) claim to be on board with moving to an unassigned workstation (or any alternative workplace strategy) yet quietly undermine efforts, usually out of fear of the unknown.
A robust education campaign as part of a change management strategy can be tremendously helpful in earnestly securing leadership buy-in of a new workplace strategy.  The success of a project is greatly aided when leaders use their influence and provide employees the autonomy and authority to utilize spaces as they see fit upon shifting to unassigned seating. 
From our experience, the fastest adoption of a new workplace strategy is on projects where very senior leaders take an active role in using new work areas as intended, foregoing the temptation to view themselves as exempt of the change. There are two ways that leaders can aid the organization in maximizing both the time workers spend focusing on their tasks and maximizing real estate investment: by exhibiting model behavior, and by encouraging employees to choose from a variety of on-campus work settings, appropriate for the task at hand.
However, certain management actions can still pose challenges to the success of this strategy. For instance, manager resistance to on-campus mobility, due to a lack of trust in employees, deprives an organization of the opportunity to take advantage of the above-mentioned benefits.
Another Critical Influence™ impacting the shift to unassigned workspaces is technology. But taking simple plug-and-play technology to a higher level may help to eliminate many concerns about working in such an environment. The ability for an employee's telephone extension to follow wherever he or she chooses to work in the facility, or providing advanced technology to capture and share meeting notes, rather than relying on paper, can support the successful execution of a workplace strategy employing unassigned workspaces. 
Finally, corporate culture can impede the transition to unassigned workspaces for a portion of the workforce. When supervisors, managers, and other executives are moved from dedicated places to work in the unassigned work environment, those maintaining their private spaces may react negatively, perceiving that they're "not important enough to switch to the new way of working." Their interpretation of the decision to keep them in their cubicles is that the organization lacks trust in them. That dedicated workspace has just taken on the connotation of a cage or prison cell to "contain" them rather than as a tool to support their productivity.
The above examples are just a few descriptions of influences that can possibly impact this kind of initiative. For organizations planning to shift to this new type of workplace strategy, it's beneficial to step back and examine the different elements present in the current arrangement. Doing so helps avoid barriers from arising and preventing success.
The same can be said about a strategy associated with the virtual workplace: the concept of remote working or teleworking. Many of the issues surrounding the decision to implement or expand workplace flexibility will be explored in the next section.
Issues surrounding remote work initiatives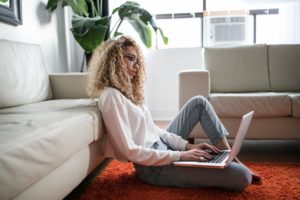 The decision to allow employees to choose their home as their physical workplace is not an easy one. The barrier that often emerges, regardless of the size of the enterprise or the level of sophistication of the telework program, is a cultural one. 
The perception of people within the organization that telework isolates employees from opportunities for career advancement can result in underutilization of a program that otherwise has the potential to increase worker productivity. 
Similarly, the view that employees choosing to telecommute are not as committed to the enterprise can stifle chances for the teleworker to be invited to lead an exciting, new project that would provide learning, personal growth, and engagement within the organization.
In January 2007, global talent management company Korn/Ferry International announced the results of its survey of business executives from 71 countries. The organization's Trends@Work research revealed:
Of more than 1,300 business leaders, 61 percent believe teleworkers have a lesser chance of career advancement than those who work in conventional work environments.

More than one-third believe teleworkers are more productive than their peers who do not telework.
This data has been corroborated by the research results of the Center for Excellence in Service at the Robert H. Smith School of Business, University of Maryland, which were published in the Society for Human Resource Management's HR News. 
In its annual National Technology Readiness Survey (NTRS), the center gathered feedback from 1,015 adults in the United States. In 2006, survey results indicated that although 25 percent of the respondents were given the option to telework, only 11 percent chose to do so full- or part-time. 
While attitudes regarding remote work have evolved in the years since, especially in light of the coronavirus pandemic in 2020, this style of work is one you're sure to find no shortage of opinions on in any organization. For companies planning to implement teleworking or blend it with their current workplace strategy, addressing these issues is crucial and it is wise to examine how each element of the Critical Influence System™ affects a workplace initiative.
All elements within the Critical Influence System™ must work in harmony
With the increasing emphasis that business leaders are placing on improving innovative organizational outputs, workplace professionals charged with developing environments meant to enable innovation would be wise to heed warnings of barriers that may undermine their office design solutions. 
Fortunately, understanding the interrelatedness of the Critical Influence System™ factors can help to explain why previous workplace designs have failed to achieve their project objectives. 
Stegmeier Consulting Group's advice to any organization frustrated with less than stellar results produced by a newly designed workplace environment is to avoid assuming a large dollar investment is required to redesign that solution. Better to invest the time in exploring the various elements of the Critical Influence System™ to identify incongruence among the interdependent factors. 
The office design may in fact be quite appropriate. Environmental adaptations needed, if any, may be minor, and carry little or no cost. The key learning is that the physical workplace needs to be considered simultaneously with the other elements. A change in one element often causes a disruption elsewhere in the system. All factors within the Critical Influence System™ need to be congruent, and working in harmony.
Consulting expertise to help your company plan and introduce a new workplace strategy
If you are planning to implement changes related to your physical or virtual workplace, it is important to formulate a smart and systematic approach to change.
With our extensive expertise in this area, Stegmeier Consulting Group can help you evaluate the effectiveness of your new workplace strategy or develop a new one entirely. Our Critical Influence Approach™ to change management can guide your organization into new ways of working. Fill out the form below to get started.